Principal's Message
Dr Rabia Bhuiyan (Principal)
MA (DU), LLB (DU)
LLM (Cornell, USA), JSD (Cornell, USA)
BCL (Durham, UK), Barrister-at-Law (Lincoln s Inn, UK)
Senior Advocate, Supreme Court of Bangladesh
Principal, The Bhuiyan Academy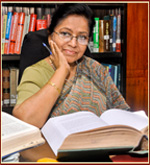 Bhuiyan Academy is a private institution of higher education, offering distance learning programmes in a number of courses. Our programmes for external degrees are run very closely with the concerned Universities and colleges, attracting students from all over Bangladesh. With more than 21 years of successful experience, the Academy is fully committed to providing quality education and producing competent professionals who are academically prepared, able as well as eager to face the challenges of todays society.

The work done at the Academy, with teachers and students working together, has led to impressive examination results. The members of the teaching staff are specialists in their own fields and encourage students to participate in the educational process and be inquisitive in classes.

We believe that by keeping the students needs foremost in our mind, the students and the Academy will equally benefit from this process. As a student you can continue to take pride in the objectives, philosophies and achievements of our Academy.