A few words about the founder from (Vice-Principal) Barrister Shahanara Bhuiyan -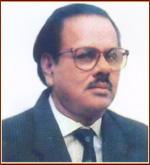 AKM Mozammel Hoque Bhuiyan


(1939-2008)


Late Barrister AKM Mozammel Hoque Bhuiyan was born on 15th January, 1939. He passed his Bar in 1972 and joined the British Service as Registrar in Inland Revenue Department from 1972-73. He was called to the English Bar as a Barrister in July 1973. Mr. Bhuiyan completed his M.Com from Dhaka University and Chartered Accountancy in the following years. He became a Fellow Chartered Accountant (FCA) in 1986 and was a part-time teacher of Fiscal Law in the University of Dhaka. Mr. Bhuiyan will always be remembered as a lawyer. A number of his cases were published in the law Journals.

Apart from being a lawyer, Mr. Bhuiyan will be remembered for his extraordinary contributions to introducing Distance Learning Legal education in Bangladesh by establishing the Bhuiyan Academy in 1989, which opened the opportunity for obtaining foreign legal education and a pathway to Barrister-at-Law to an enormous number of Bangladeshi students. There are about 300 Barristers who successfully completed their Degrees after completing their LLB degrees through the Bhuiyan Academy.

Mr. Bhuiyan will also be remembered for his extraordinary social services. Besides establishing and patronising a number of schools, madrashas, orphanages and colleges, he was instrumental in establishing the present Centre for the rehabilitation of the paralysed (CRP) at Savar, the largest Centre in Asia for treatment of the paralysed people with Ms Valorie Taylor, and had been the honorary Chairman of the Trustee Board from 1982-2004.